Octobre 2021
Calendrier
Qui est en ligne ?
Il y a en tout
242
utilisateurs en ligne :: 22 Enregistrés, 0 Invisible et 220 Invités :: 3 Moteurs de recherche
Alain du 28
,
bandit52240
,
Booper56
,
charpentier09
,
Chris1800
,
dan82
,
dayton34
,
DOMI 57
,
EXKAWA
,
g2loq
,
jack 57
,
jclaudej
,
Jife
,
Maxrunner31
,
ONACJ
,
Panagil
,
patrick lille
,
phiphi 60
,
tlpg
,
toupeyo
,
tymoreau
,
Yannick
Le record du nombre d'utilisateurs en ligne est de
732
le Mar 24 Déc 2019 - 1:56

Activez votre traducteur en ligne, si besoin est. 
Un très bon comparo.

Non pas de vagues ressentis, mais des faits basés sur les spécificités techniques de chaque modèle, fort bien détaillées et analysées (moteur, architecture, géométrie, ergonomie etc etc...) 

By Staff - July 25, 2018
BMW K 1600 B vs. Honda Gold Wing vs. Yamaha Star Eluder: Bagger Comparison
Overseas Baggers: BMW K 1600 B vs. Honda Gold Wing vs. Yamaha Star Eluder
While it can be argued that Harley-Davidson invented and continues to define the bagger genre with the Street Glide and Road Glide as sentries protecting the classification, that doesn't mean that there isn't plenty of room for alternative takes on the bagger genus.
Certainly, Germany and Japan have something to say in the category with the BMW K 1600 B, Honda Gold Wing, and Yamaha Star Eluder—all three new models in 2018.
We have already tested the 2018 BMW K 1600 B, Honda Gold Wing, and Yamaha Star Eluder (with the GT Option Package) in detail, so we aren't going to go over the same territory in this comparison. Instead, we're going to talk about how these three baggers approach the style, and exactly which riders each of these motorcycles is designed to appeal to.
The three brands certainly have distinctive approaches to the bagger discipline. There are huge differences in the powerplants and chassis, making it easier to select the correct motorcycle for your style once you understand their unique personalities, as well as your own.
Although the three motors have considerably different architectures, they do share a common trait—four-valve heads. To get there, BMW uses a DOHC valve train for its inline-6, with Honda going with two SOHC banks on the opposed-6, and Yamaha tapping the tried-and-true pushrod design for its big-inch V-twin.
Yamaha has the largest displacement motor, with BMW giving away around 200cc to its competitors.
When it comes time to twist the throttle, the BMW's displacement handicap disappears in a cloud of dust. Whether running through the gears or rolling on in sixth gear, the K 1600 B is the king of acceleration.
The Gold Wing is no slouch, but it invariably falls behind the K 1600 B. Yamaha doesn't even compete, with the Star Eluder's torquey slow-revving motor enticing riders in a different manner.
The Star Eluder's motor has impressive grunt right off idle—there are 126 ft/lbs of torque available at just 2500 rpm. That makes it an attractive powerplant for the rider who often carries a passenger, along with fully loaded saddlebags, and isn't in a hurry.
There are Touring and Sport power modes, with noticeably faster revving in the Sport mode. Still, the Eluder is far from quick and the redline comes into play fairly early. Both modes are rider-friendly and purely a personal preference choice.
If you like to speed away from your friends, the BMW motor complies—the DOHC inline-6 is simply the highest performing of the three. It's a three-mode motor, with the Road and Dynamic modes putting out the same power, but gaining revs at different rates.
The Rain mode lowers power output by about 10 percent, as well as slowing down throttle response. Generally, we prefer the Road mode for most riding, and are thrilled that the Dynamic mode is there for making time, and the Rain for low-traction conditions.
Honda splits the difference, and does it beautifully. There is plenty of low-end power, and it's a willing revver. Honda offers four power modes for the Unicam motor (the SOHC actuates the intake valves directly). The Tour and Sport modes get the most play, with both very easy to use.
Econ is fairly boring, as we never felt the need to save money on fuel, and the Rain mode is there when the heavens open up. It all depends on the rider—some will be happy in the responsive Sport mode all day, while others will not budge from the delightful Tour mode. Regardless, the new Honda motor is magic, even if it is neither the fastest nor the torquiest—it's about balance.
Ergonomics are huge for touring bikes, even for weekend trips, which are the forte of baggers. Again, you get three clearly different approaches to getting you there in comfort, while still maintaining full control of the motorcycle.
In its infinite wisdom, Honda locks you into position on the Gold Wing. There are fixed footpegs, and that is where your feet will rest. Having said that, Honda's reputation for ergonomics is unmatched, and the Gold Wing lives up to high expectations. The grips, pegs, and seat are right where you want them to be, and it's a very neutral upright position. However, on long rides, you are going to need to get off the Gold Wing if you want to stretch your legs—the motorcycle is not accommodating to changing the position of your feet. The seat is excellent, and won't be a reason to pull over for rest.
The Yamaha Star Eluder has more traditional bagger ergos. The bars are wide and your feet are far forward, putting you in a relaxed position. The Eluder gives you long floorboards—about the length of two size 9 boots—so you can bend your knees at a wide variety of angles. It's great to be able to move around incrementally, and that reduces fatigue on long rides. Some people aren't fans of the seat, while others can put in a full day without complaint. The ergonomics are perfectly suited to the casual-pace rider.
BMW has footpegs in a sporty position—fitting given the performance of the motor. However, to indulge long-distance riders there are raised and angled forward-mounted floorboards. This two-pronged approach to your knees is a good one. If you want to put the K 1600 B through its paces, you are in the right position with your boots on the pegs. However, when it's time to put on some miles, or you want to profile your way through town, it is tough to beat the floorboards. It's really the best of both worlds, though there isn't a lot of room for adjustment when in either of the positions. We liked the seat with our feet in both positions.
For many, bagger means low, and the Yamaha Star Eluder goes that route. The seat and the sidebags are noticeably lowest on the Yamaha. BMW has you sitting up high on the K 1600 B, with the goal of increased cornering clearance.
It's not like the 30.7-inch seat height on the BMW isn't manageable, but it is not as comforting as the Yamaha, which has a seat height more than three inches lower. Predictably, Honda again stakes out the middle ground, with a seat just less than two inches higher than the Yamaha's and over one-and-a-half inches lower than the BMW perch.
Handling reflects the intention of the motors, and all three motorcycles ride exactly how you would want them to.
The BMW has a hotrod motor, and enough chassis to handle it. The 17-inch wheels will accept high performance rubber, with the Bridgestone Battlax BT022 tires doing a fine job off the showroom floor.
The K 1600 B is the lightest (by 46 pounds) of the three and has the narrowest tires, as well as the steepest rake and shortest wheelbase, by far. On the downside, the Duolever front end has a lack of feel and some understeer. Completely stable in a straight line, it's a large performance motorcycle with no hint of nervousness.
The Gold Wing has always had an enviable reputation for good handling, and the new 2018 version continues in that tradition. You can hustle through the corners with abandon, forgetting that you're on a motorcycle that weighs just shy of 800 pounds before you hop on.
Going where you point it, the Gold Wing has impressive cornering clearance, and the Dunlop Sportmax D423 tires are more than sticky enough. The perfectly neutral handling exhibited by the Gold Wing inspires rider confidence, and that means you can make the most out of what the Gold Wing's motor has to offer.
With a delightfully lazy motor, the Yamaha Star Eluder has a relaxed chassis to match with the longest wheelbase and the most rake. If you like going in a straight line and prefer your cornering to be highly stable, the Eluder can't be beat.
Cornering clearance is a bit more generous than you would expect, and you definitely can have some fun in the twisties, even though the motorcycle weighs nearly 900 pounds. Touring-oriented Bridgestone Exedra tires are more than up to the demands of the chassis and motor, while giving you great mileage.
When it comes to suspension, all the engineers got it right. The BMW K 1600 B has active suspension that works brilliantly. It's tied into the power modes and always does what you want it to do—the best of the group.
Like the BMW, the Honda uses a complex single-shock front suspension design that resists diving under braking, and gives a superior feel for the road. The Honda Gold Wing glides over rough roads and doesn't misbehave when you ride it hard. Soft and comfortable describes the traditional Yamaha Star Eluder's suspension. You're nicely isolated from nasty road conditions, and have enough front end feel for the kind of riding it is designed do to.
We hate to sound like a broken record, but all three manufacturers have just the right braking for each bike. All three have seamless linked brakes and unobtrusive ABS—both standard features we like, especially on a touring bike. Oh, and they all have superb traction control across the board.
Likewise, the transmissions reflect the use of the bikes. The BMW and Honda have slick-shifting transmissions, while the Yamaha requires more assertive shifting for its big V-twin. With each running six-speed transmissions, you can always find the right gear. We have tested the Honda Gold Wing with the seven-speed DCT, and would go with that $1200 option in a heartbeat.
The Yamaha Star Eluder has the smallest front brakes by some margin. However, even though it is the heaviest of the three, braking is still more than adequate. Honda ups the ante with highly responsive and predictable braking on the Gold Wing, with the K 1600 B having the braking needed for the power delivered—three linked 320mm discs.
We definitely like the anti-dive front suspension units on the BMW and Honda, though the Yamaha is fine for touring.
Wind protection is fairly equal. We each had our preferences based on our height and riding position, though were all satisfied on all three motorcycles. You can easily go with a higher windscreen if you like, even if it gives the motorcycles a bit less of a sleek bagger look.
The Yamaha Star Eluder and Honda Gold Wing have beautiful seven-inch displays in the cockpit. The BMW K 1600 B's 5.7-inch screen seems small and dated in comparison. To make up for it, the BMW has a rotating dial on the left handlebar that makes it much easier to scroll through menus. All three bikes have large analog-style dials for velocity and rev counting.
Baggage is always a personal issue, though we were happy with the capacity of all three motorcycles. Some people will prefer the top-loading Eluder bags, while others are fans of the clamshell design of the K 1600 B and Gold Wing. Given the dramatic difference between the mounts, we would select the machine that best fits us and adjust our cargo to fit the requirements of each motorcycle.
Baggers also get used in-town, with many people enjoying impromptu stoplight dyno runs. The Yamaha Star Eluder's low-end torque is a big help off the line if you don't want to rev the engine to signal your intentions.
However, if you lift the engine speed on the BMW K 1600 B, it's going to win any drag race. The Honda Gold Wing holds its own, regardless of your launch style.
The K 1600 B is the most manageable around town, as it is the lightest and has the most agile geometry. Plus, the motor is smooth at low speeds. The Gold Wing is also happy traversing urban terrain without drama. Be ready to apply a bit more muscle to the Star Eluder, due to its weight and relaxed geometry.
You probably will see our conclusions coming from a mile away, but that is not going to stop us from wrapping up our Overseas Bagger Comparison.
Performance riders will flock to the 2018 BMW K 1600 B. The DOHC inline-6 cannot be beat, and the chassis holds its own in the canyons, as well as in a straight line. If your idea of a bagger is going fast, this is your motorcycle, and it has the flexible ergonomics to eat up plenty of miles in a day.
The 2018 Honda Gold Wing carries in the Gold Wing tradition. It is an amazing do-it-all motorcycle that has the ability to adapt to your style, rather than the other way around. The motor and chassis are happy going fast, slow, or anything in-between, and it never puts a foot wrong. The only thing that might hold you back is its fixed ergonomics.
With tons of low-end torque and a big V-twin, the 2018 Yamaha Star Eluder is for the traditionalist. It's not about going fast—it is about comfort, style, and the ease of use that comes with plenty of grunt—a passenger is barely noticed on the motorcycle. Handling is suited to the motor, and there is plenty of fun to be had.
Look yourself in the mirror and access your needs, and your favorite Overseas Bagger will reveal itself to you.
Photography by Drew Ruiz, Don Williams, and Kevin Wing
RIDING STYLE – BMW K 1600 B
    Helmet: Shoei RF-1200
    Jacket: Pando Moto Capo
    Gloves: Racer Spirit
    Jeans: Pando Moto Karl
    Boots: TCX X-Blend WP
RIDING STYLE – Honda Gold Wing
    Helmet: HJC RPHA Pro 11Kylo Ren
    Communications: Sena 10C
    Jacket: Tourmaster Transition Series 5
    Gloves: Joe Rocket Burner
    Jeans: Spidi J&K Pro Tex
    Base layer: Cortech Journey Coolmax Pant
    Boots: Tourmaster Flex WP Dual Zip
RIDING STYLE – Yamaha Star Eluder
    Helmet: HJC IS-17
    Communications: J&M Elite 801
    Jacket: Joe Rocket Vintage Rocket
    Base layers: Touratech Primero Alpine
    Gloves: Tour Master Mid-Tex
    Jeans: Street & Steel Oakland
    Socks: Moto-D Warm All-Season
    Boots: Tourmaster Vintage WP 2.0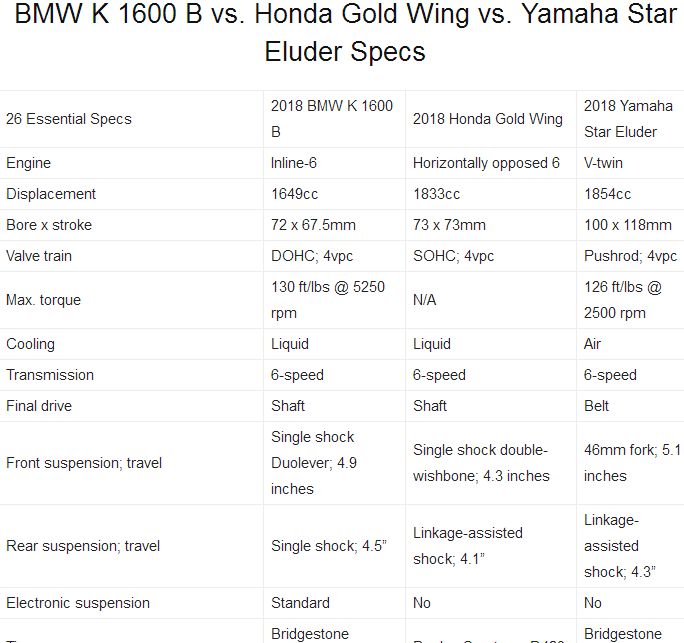 g2loq

Co-administrateur





Messages

: 16146


Date d'inscription

: 29/04/2013


Age

: 67



Un article bien rédigé. J'adore la Yam avec sa belle gueule. Pour rouler à 80 km/h cela m'irai bien. Un très beau couple bien bas délivré par le V twin et un réservoir de bonne contenance pour rouler sans crainte de pousser.
_________________
Faire les choses sérieusement sans se prendre au sérieux.
Avant je roulais en Goldwing, mais ça c'était avant

DenisFont85

Membre incontournable !





Messages

: 9658


Date d'inscription

: 22/08/2013


Age

: 62



Ah cette Yam...
Je crois qu'elle va faire sa place et va piquer des clients chez Honda et BM...

hf1961

Membre incontournable !





Messages

: 2796


Date d'inscription

: 12/12/2017


Age

: 60



C'est bien un comparatif et non un match car en conclusion c'est : "suivant ce que vous recherchez, prenez celle qui vous convient le mieux"
.

kuczynski

Membre incontournable !





Messages

: 5520


Date d'inscription

: 22/10/2012



La Yam était mon choix jusqu'à ce qu'ils disent qu'elle ne viendra pas en Europe....

snif...
Je trouve l'article très superficiel, comme une simple prise de contact. Il n'est pas fait mention des points critiquables : sur la beumeu, la chaleur éventuelle du moteur (à températures égales et parcours identique, la première que j'ai essayée chauffait pas mal, la 2e beaucoup moins), l'emport pas si facile dans les valises puisque mon J-Cruise ne rentre pas si facilement dans les valoches et une fois qu'il y est, on ne met pas grand chose en plus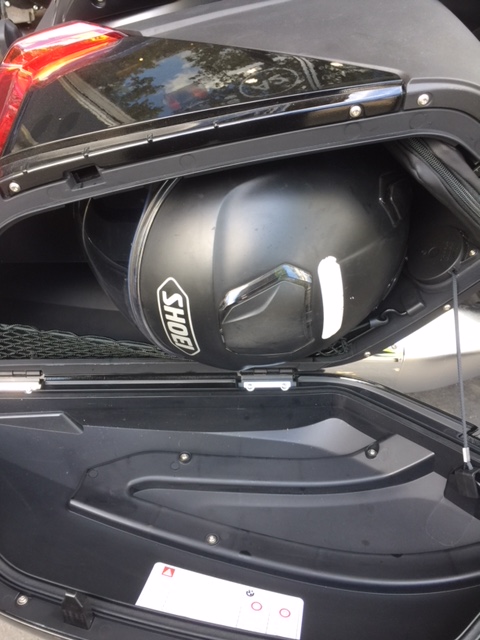 la protection mal pensée du moteur (en cas de chute légère, les protections placées sous les floorboards peuvent ruiner le moteur, c'est arrivé à un forumiste beumeu, moteur à changer), le coût élevé de l'entretien et des options.
Sur la GW, la Vmax limitée, la différence cosmétique entre le mode Touring et le mode Road (je n'essaie presque jamais le mode Rain, trop déprimant), l'emport, le vide-poche qui ne ferme pas à clé (et encore moins par fermeture électro-magnétique, une solution pourtant simple autant que vraiment pratique).
Mais la bonne nouvelle, si j'ai bien compris, c'est l'option DCT possible même sur la bagger ? 
Et j'oubliais, last but not least, la conso ! MotoMag dans son comparo donne pour la K16B un 8,3/100 de moyenne pendant l'essai (avec un max de 11,2/100
, ils ont certainement dû passer par l'Allemagne pour aller de Paris à Trouville  
) alors qu'une K16 de 2013 tourne plutôt aux alentours de 6,6/100 de moyenne.

ledany

Membre incontournable !





Messages

: 473


Date d'inscription

: 27/10/2014


Age

: 65



---
Permission de ce forum:
Vous
ne pouvez pas
répondre aux sujets dans ce forum